What will your new roof cost?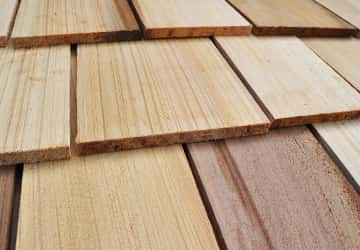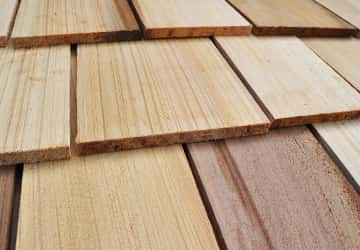 Specifications
Watkins Sawmills Ltd Tapersawns Shake Product Brochure
Watkins Sawmills Ltd Wood Warranty Brochure
Warranty Details
Warranty details describe the standard warranty included with installation. There are additional coverage options available for most products. You can elect for more coverage when ordering your product.
Original product defects leak protection 40/50 years
Wind Rating
Asphalt roofing shingles generally all carry the same wind resistance classifications: ASTM D3161 Class F and ASTM D7158 Class H. However, wind rating is the specific warranted wind coverage by individual products.
170 mph
Fire Rating
Class A is the highest rating, offering the highest resistance to fire, followed by Class B, Class C, and unrated is the worst. A standard fire test with the following performance criteria is used to determine the fire rating of a roof covering: 1) flame penetration through the roof covering into the attic space, 2) flame spread over the surface of the roof covering, and 3) the propensity for the roof covering to become dislodged and generate embers.
Class A, B & C fire rating may be obtained by specifying Certi-Guard permanent fire retardant
Impact Resistant
Impact resistant shingles are designed to withstand hail and their durability rating is established by administering the UL 2218 impact test. Shingles are granted a rating of Class 1, 2, 3, or 4 based on the degree of impact they can withstand without cracking. The criteria for a Class 4 rating is whether a 2-inch steel ball dropped from a height of 20 feet directly onto the shingle being tested cracks through the shingle. If not, the shingle receives Class 4 impact rating. To achieve Class 3 rating, the shingle must withstand a 1 ¾-inch steel ball dropped from 20 feet. Roofle considers Class 3 and 4 to be impact resistant.
No
Extended Warranty
No
Algae Protection
Algae growth on roofs can leave unsightly black streaks, cover UV resistant granules, and possibly leading to damaging moss growth. Coastal, warm and humid climates tend to create the friendliest environments for algae growth. To prevent this, some products incorporate copper-containing granules on the surface of the shingle.
CAA Preservative Treated
Nominal Dimension
The nominal dimension is the approximate size of each individual shingle or piece of material as sold by the manufacturer.
Available Lengths: 18" and 24" (5/8" or 3/4" thickness), 4" min width
Exposure
Exposure is the amount of material after installation that remains exposed to weather. The standard asphalt roof shingle exposure is 5" or 5 5/8" (metric shingles). For 12-inch wide shingle materials this means that the headlap or covered portion of each shingle course will be 7.
10" for 24-inch shake; 7 1/2" for 18-inch shake
Approx. Nails/Sq
2 nails / shingle
Approx. Pieces/Sq
0
Approx. Installed Weight/Sq
0
Awards And Recognition
N/A
Watkins Sawmills Ltd Tapersawns Shake Premium
A Tapersawn red cedar shake is sawn both faces but is thicker than a shingle. The added thickness enables it to be applied as a shake (2 ply with paper/felt interlay) resulting in lower application costs. Many architects like the more defined shadowline of the heavier butt.
Warranty:
Standard Warranty
Top Features:
Eco-friendly
Recommended


Watkins Sawmills Ltd Hand Split & Resawn Premium Cedar Shakes
Type:

Wood
Warranty:

Original product defects leak protection 40/50 years
Top Features:

Eco-friendly
GAF Timberline HDZ Driftwood
Type:

Asphalt Shingle
Warranty:

50 Years Lifetime Limited Warranty, 15 Year Wind, 10 Year Algae
Top Features:

North America's #1 selling shingle plus enhanced performance
EDCO Arrowline® Shake T-Tone
Type:

Metal
Warranty:

Lifetime, non-prorated limited warranty, 30 year fade protecttion, lifetime hail/impact protection, transferrable
Top Features:

160 MPH wind resistance, class 4 impact resistance