Try Our Instant Roof Quoting Tool
Powerful Quoting Engine
Our proprietary quoting tool accounts for multiple structures on the property, works even with heavy tree coverage, and allows users to edit or add roof shapes.
White-Labeled Design
Set up your tool to blend perfectly with your website. Use your brand colors, fonts, and control the look and feel of buttons, call out text, and more.
Capture Higher Quality Leads
Delight website visitors and boost your conversion rates through a highly tested lead capture experience directly within the tool.
Sell Your Own Products
Choose from over 800 different asphalt shingle, metal, synthetic, tile, wood, and more roofing products or customize your own to showcase in e-commerce style fashion.
Set Your Own Pricing
Control the price per square for each product on a per market basis, and customize what is and what is not included in your quotes.
The Future of Roofing Is
Powerfully Simple
Sell from anywhere
Save on measurements
Save on sales trips
Earn customer trust
More effective marketing
Convert more traffic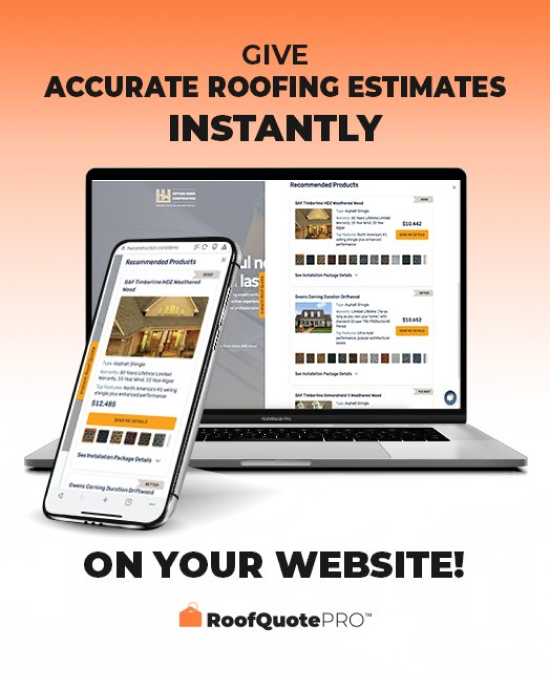 Exciting Times
Jen Silver
Roofing Utah
Salt Lake City, UT
I believe Roof Quote Pro is something that businesses are going to need to incorporate in order to stay relevant. It's designed to keep our industry alive and competitive.
John DeLaurier
DeLaurier Roofing
Athens, GA
Roof Quote Pro is a phenomenal tool for our business and has already generated significant leads. It has also increased our website conversion tremendously!
Nick Hutcherson
Hutcherson Construction
Kalamazoo, MI
ROOFLE is the next wave of the technology revolution in contracting services. It is a very innovative and intuitive platform that will revolutionize lead conversion in our space.
Pricing
Onboarding
For initial account backend setup, hosted application setup, initial brand & pricing configurations, initial product selection, pro portal walkthrough, ongoing technical maintenance & support, feedback opportunities, and account management.
Monthly Subscription
Unlimited instant quotes in one market, pro dashboard, leads reporting, white-labeling, emails, custom pricing and products, and market configuration.
Additional Markets
Expand your service area and configure your products and pricing uniquely for each additional market.
Annual Rollup
$510
/mo (set up cost rolled into 12 monthly payments)
$50
/mo per additional market, no cancellation for remainder of annual commitment